St. Alban's 
Episcopal Church
(828) 324-1351
 Office Hours:   Monday through Thursday, 10 a.m. to 3 p.m.
Important Message from Fr. Tryggvi:
Seeking delegates and alternates for Annual Convention: The Vestry is receiving nominations for two lay delegates and two lay alternates to represent our parish at the Diocesan Annual Convention set for November 9 and 10 at Kanuga Conference Center. The Annual Convention is the ultimate organizational decision-making body of the Diocese, comprised of lay members and clergy from the parishes and mission stations in the Diocese. Each parish is represented by two lay delegates and clergy. The Annual Convention decides the Diocesan annual budget, (based on recommendations from the Budget and Finance Committee of the Diocesan Council), elects members of the diocese's various administrative, executive and judicial bodies and votes on any resolutions—including those that amend or add to the Diocesan Constitution and Canons—that may be brought before it. Attending Convention is a wonderful opportunity to get to know that larger governing function of our Church. Who is eligible to serve as delegate and/or alternate? Any parishioner, (18 years or older), in good standing; i.e. baptized, confirmed, or received into the Episcopal Church, who pledges and attends church worship regularly. Nominations can be submitted to the church office, or given to Vestry members, Fr. Tryggvi, or Deacon Barbara. PLEASE NOTE: Respectfully seek agreement from a parishioners to be a nominee before you submit his/her name. Parishioners are welcome to submit their own names. Deadline to submit names is by September 10.   
= = = = = = = = = = = = = = = = = = = = = = = = = = = = = = = = = = = = = = =
I _________________________ nominate __________________ to serve as 
St. Alban's delegate [  ], alternate [  ] at the Diocesan Annual Convention on November 9 – 10 at Kanuga Conference Center. 
.

QUICK GLANCE
Sunday, August 19:

7:30 a.m. Morning Prayer 

8:30 a.m.

 Early Worship with Holy Eucharist
10:30 a.m. Late Worship with Holy Eucharist

1 p.m.-7 p.m.

Youth SPLASH event at Camp Rockmont

Tuesday, August 21

7:30 a.m.

Men's Study Group

5:45 p.m.

Healing Service with Holy Eucharist

6:15 p.m.

D.O.K. Gathering with light dinner.  All women of the church invited to attend.

Wednesday, August 22, 7 p.m. Adult Choir Rehearsals Begin!!!  If you love to sing and read music, please join!
Wednesday, August 22  Iceland Deposit Due.  $200, nonrefundable check made out to Tammy Shook.  Deposits may be dropped off in the church office.  Your information form must be included with the deposit.
Thursday, August 23, 10 a.m. – 2 p.m. Corner Table Quarterly Meal (volunteers needed – sign up at the kiosk)
Sunday, August 26, 10:30 a.m. Blessing of the Backpacks!  
Sunday, September 9 Opportunity Sunday & Parish Picnic (Sign up at the kiosk)
Thursday, September 13 2nd Annual First Fruits Farm to Table Dinner.  Click HERE for more info and to purchase tickets for the event and the $10,000 Draw Down.  Or you can purchase tickets from Jane Duralia after church each Sunday until September 9.

September 21-23: 

St. Alban's Women's Retreat (see below for details)
LOBSTER FEST TICKETS NOW ON SALE!  Purchase after church, at the Hickory Farmer's Market on Wednesdays & Saturdays, at the St. Alban's Office (M-Th, 10-3 p.m.), or contact Wayne Oram, Mary & Bob Klinger, Jane & Reg Duralia, Florence & Jeff Mackie, John & Jane Earl, Jan & Dick Knotts, or Cami Roberts.
BUY LOBSTER & HELP WITH THIS WONDERFUL EVENT
Volunteer Opportunities also available.  It takes a whole lot of FUN teamwork to make this community event a success and since all proceeds go to St. Alban's Outreach Ministries, everyone wins!  Look for signups at the Kiosk in the Commons Room or contact Maria Headrick (mariaheadrick@gmail.com) to find out how you can help.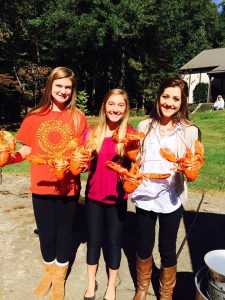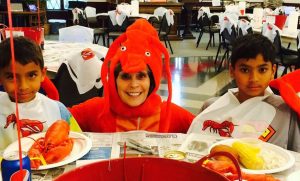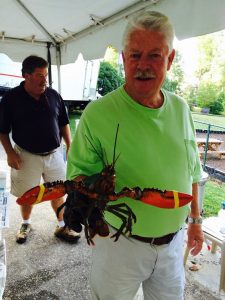 .
All St. Alban's ladies are invited to the Women's Retreat to be held September 21-23 at Valle Crucis Conference Center.  We are very excited to have Rev. Dr. Valori Sherer join us again as our retreat leader.  There will be a sign up sheet on the Kiosk with more details.  For more information please contact Claudia Moore, 828.638.5900 or Mary Michele Millholen 404.550.1011.

.
The Summary of Actions of the 79th General Convention is now available:
The Rev. Canon Dr. Michael Barlowe, Secretary of General Convention, has announced that A Summary of Actions of the 79th General Convention is now available online at the General Convention website, here:  https://www.generalconvention.org/. The text of resolutions can be found in the resolutions section of the virtual binder at vbinder.net  A Summary of Actions of the 79th General Convention presents the results of resolutions and the membership of the Executive Council as well as other elections and appointments made during the 79th General Convention held July 5th – 13th, 2018 in Austin, Texas.
.

ST. ALBAN'S MEN'S STUDY GROUP meets at 7:30 a.m. the first and third Tuesday each month. The group's purpose is to expand our ability to serve the people we meet in our daily lives through study and prayer.  These methods include Bible study, book study and videos.  The Men's Study Group is open to all men. Newcomers are always welcome.
Upcoming Meeting:  Tuesday, August 21, 7:30 a.m.