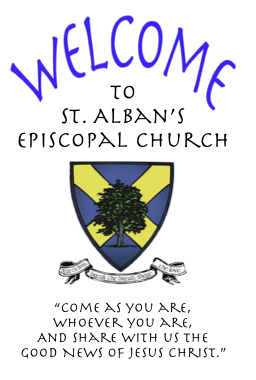 (828) 324-1351
 Office Hours:   Monday through Thursday, 10 a.m. to 3 p.m.
.

QUICK GLANCE
Thursday, November 5

10 a.m.

Yoga

6:30 p.m.

Yoga 

Sunday, November 10

7:30 a.m.

Morning Prayer

8:30 a.m.

Early Worship

10:30 a.m.

Late Worship

Lowes Food Gift Cards available for order following each service. (see below for details)

Monday, November 11, 10 a.m.

Yoga

Thursday, November 14, 10 a.m.-2 p.m.

Corner Table Quarterly Meal

(volunteers needed)

Friday, November 15, 6 p.m.

LOBSTER ROLL & BINGO!

(see below for details)

Tuesday, November 19

7:30 a.m.

Men's Study Group

(see below for details)

5:45 p.m.

Healing Service & Holy Eucharist
LOWES FOOD GIFT CARD SALES
Buy a Lowes Foods Gift Card (LFGC) from St. Alban's and use it for any purchase at any Lowes Foods grocery store or Lowes gas station.
• Not just for groceries! LFGC's make great Christmas gifts or stocking stuffers! LFGC's can also be used to purchase any gift card offered at any Lowes Food in-store kiosks, such as iTunes, Barnes & Noble, and Starbucks, just to name a few.
• LFGC's may also be donated to Father Tryggvi's Discretionary Fund as a means of helping the hungry.
• What you spend is what you get!  There are no fees associated with the use of this card.  If you purchase a $100 LFGC, you receive $100,  then Lowes Foods donates a portion of our total sales back to St. Alban's.
• Our Goal: Earn $2,500 to FIGHT HUNGER. Total card sales of $25,000 will net 10% ($2,500); sales under $25,000 will net 6%.
• All cards are pre-sold. Pre-Sold Cards will be available for sale on the following Sundays:  November 3, 10, & 17th.  They are also available to order in the church office M-Th, 10 a.m. to 3 p.m. Please make checks payable to St. Alban's Episcopal Church and write "LFGC" in the memo line.
• You may offer this opportunity to family, friends, neighbors, and co-workers.
• Questions? Contact Karen Young 
Pinch Me!  It's Time For




LOBSTER ROLLS!!!
RSVP NOW!!!
Friday, November 15th, 6 p.m.

Lobster Roll Dinner & BINGO!
Enjoy an evening with your St. Alban's Family dining on DELICIOUS food then enjoy some games of BINGO with prizes.
On The Menu:
Lobster Rolls, $15

Corn Chowder Soup, $5

Burgers, $5
The money collected for this event goes to maintaining our facilities so we can continue to have big events like the Lobster Fest and Oyster Roast. 
Sign up at the kiosk or simply email roberts.cami@gmail.com. 
Money will be collected at the door.
.
In the words of King James I of Scotland (ca. 1423),
"The more, the merrier!"
YOU ARE INVITED!!
You are cordially invited to an In-Gathering on Sunday, November 17th, immediately following 10:30 worship we will celebrate the completion of our 2020 Stewardship Campaign and the many blessings we share within our St. Alban's Family.  Hors d'oeuvres and beverages will be provided. 
 YOGA comes to St. Alban's!
We are blessed to have enough people interested in yoga to host TWO community classes each week at St. Alban's.
Monday mornings 10-11 a.m. 
Thursday mornings 10-11 a.m.
Thursday evenings 6:30-7:30 p.m. 
Both classes will meet in the Commons Room.  The suggested donation is $5 per person per class.  Most people in yoga classes bring their own mats, but there will be extras available.  Wear clothes to move around in, and prepare to bring positivity and balance into your lives!  Also consider bringing socks and a jacket as it tends to be cool in that room.  If you have questions, please email Cynthia Haas at cynthia@balanceyourlifeyoga.com, or call 828-295-2319.
Multi-Level Class from beginning to level 2.  Our goal is for all participants to feel successful no matter the experience level.
.
THE CORNER TABLE QUARTERLY MEAL: Volunteers needed to help serve a delicious spaghetti lunch!  Monetary donations are also welcome to help cover the cost of the meal. Thursday, November 14, 10 a.m. – 2p.m. Sign up at the Kiosk in the Commons Room.
THE CORNER TABLE CHRISTMAS CANDY TIN FUNDRAISER!  Candy tins are $25 and include four types of homemade candies; Chocolate Fudge, Peanut Butter Balls, Peppermint Bark, and Christmas Crackle. Orders are due by Friday, November 15. You may place your order by signing up at the Kiosk in the Commons Room. For more information, Claudia Moore, 828-638-5900, claudiamoore49@yahoo.com.

ST. ALBAN'S MEN'S STUDY GROUP meets at 7:30 a.m. the first and third Tuesday each month. The group's purpose is to expand our ability to serve the people we meet in our daily lives through study and prayer.  These methods include Bible study, book study and videos.  The Men's Study Group is open to all men. Newcomers are always welcome.
Upcoming Meeting: Tuesday, November 5, 7:30 a.m.