St. Alban's 
Episcopal Church
(828) 324-1351
 Office Hours:   Monday through Thursday, 10 a.m. to 3 p.m.
GIFT BASKET SILENT AUCTION:
Drop off your basket filled with goodies anytime between

November 12-30

(THAT MEANS, YOU CAN BRING IN BASKETS AFTER THE BIDDING HAS BEGUN!)

. 

Auction bidding begins on

November 26

and ends promptly at

Noon on Sunday December 10. 

All proceeds from this event go directly to our Outreach Ministries!

QUICK GLANCE
St. Alban's offers The Daily Office, Morning and Evening Prayers on Tuesday & Thursday, 7 a.m. and 5:45 p.m. and each Sunday morning at 7:30 a.m.  
November 11-19:

 

Hunger & Homeless Awareness Week

(see below for details)

Sunday, November 19, 9:30 a.m.-12:30 p.m.:  Shop with a Purpose at Ascension (see below for details)

Tuesday, November 21, 7:30 a.m.: 

Men's Study Group (see below for details)

Tuesday, November 21, 5:45 p.m.: 

Healing Service with Holy Eucharist

Wednesdays During Advent:  December 6, 13, & 20 5:45 p.m.:

  Cafe' St. Alban – Light meal and program

Saturday, December 9, 2-4 p.m.:

  Gingerbread House Day!  (see below for details)

Sunday, December 24

(Advent 4 and Christmas Eve)

10:30 p.m.

One morning service 

3 p.m.

Walk to Bethlehem (family centered service with Holy Eucharist)

9 p.m.

Festival Eucharist

Monday, December 25, 10:30 a.m.

Christmas Morning Service

Saturday, January 27, 6 p.m.:

  9th Annual Oyster Roast!!!  SAVE THE DATE!!
 GINGERBREAD HOUSE DAY, Saturday, December 9, 2-4 p.m.  Calling all Kids!  Everyone loves this annual event of creating a Gingerbread Village complete with it's own Train!  Sign up at the kiosk or email Cami at roberts.cami@gmail.com.  Invite your friends!  We are accepting donations of candy decorations for this event.  Just drop them off in the office any time M-Th (10-3) or on Sunday.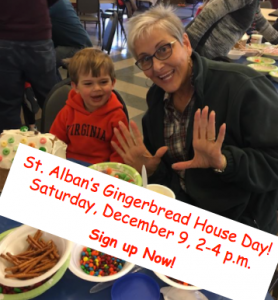 Hunger & Homeless Awareness Week,  November 11-19:  National Hunger & Homelessness Awareness Week (HHAW) is held each year the week before Thanksgiving. This is a time for us all to start to think about what we are thankful for, a perfect time to share our compassion with our neighbors who are experiencing homelessness, and work toward a world where no one has to experience hunger or homelessness. HHAW offers the chance to contribute to a national social movement.  Here are a list of opportunities right here in Catawba County that can help educate you and also support our homeless neighbors in need: 
Sunday, Nov. 12, 7 a.m.-8 a.m., "The Church has Left the Building"


Monday, November 13, LR University, Panel Discussion

on Social Determinants of Health (time TBD)

Tuesday, November 14, 7 p.m.-8:30 p.m., Open Mic Night at Tasteful Beans

Wednesday November 15, 11:30 a.m., The Longest Table

Wednesday, November 15, The Carolina Theater, Downtown HKY, Family Movie Night

Friday, November 17, 10-2 p.m. Canned Food Drive,

Greater Hickory CCM

Saturday, November 18, 11 a.m.- 1 p.m., Photography reception

for CVCC Photography Students, Photography reception for Catawba Valley Community College's photojournalism students' visual project on hunger and homelessness, at Greater Hickory Cooperative Christian Ministry.

Sunday, November 19,

Hickory Soup Kitchen, Meet & Eat Reservations Required, $35 each (time TBD)
The Church of the Ascension is sponsoring "Shop with a Purpose" on 

Sunday, November 19 from 9 AM until 12:30 PM.

 Breakfast and lunch will be served. Organizations represented at this event will include

Unique World Gifts

,

Exodus Homes

,

the Boy Scouts (selling greenery)

,

Safe Harbor Scents of Hope

, and

Habitat for Humanity

. All are welcome to join our fellow Episcopalians in downtown Hickory.  For information and directions to The Church of The Ascension, please click on the blue button to visit their website:  Ascension of Hickory
Donating Online is Quick and Easy. 
Click on the green button below.
St. Alban's Outreach:  Where do our funds Go?
The Outreach Roundtable met on October 29; $16,000 was approved for distribution to various ministries:
$3000 to Greater Hickory Cooperative Christian Ministries for rapid housing relief for a deserving family, and also for their Christmas closet.
$1250 to The Corner Table for our annual pledge and some new kitchen equipment.
$3000 as seed money for Rise from Hunger (formerly Stop Hunger Now), to be held at St. Alban's in March 2018.

$750 to the Haiti Partnership

for uniforms for school children in Gros Mangles, and $3600 for 3 months of teacher salaries.

$3000 to Habitat for Humanity Apostle Build

—our 2018 Habitat House! The committee also voted to support the Apostle Build program annually.

$1000 to Safe Harbor

$400 for the CEOC garden preparation at Sipes Transitional Living.
VESTRY NOMINATIONS   We are now welcoming the names of parishioners to be considered as possible nominees for the proposed slate of the vestry class of 2018.  The slate will be voted on at the Parish Annual Meeting in January.  Please make sure the parishioner's name you submit has agreed to be considered as a possible nominee.  Please submit names to Barbara Johnson, Office Administrator, by December 10.

ST. ALBAN'S MEN'S STUDY GROUP meets at 7:30 a.m. the first and third Tuesday each month. The group's purpose is to expand our ability to serve the people we meet in our daily lives through study and prayer.  These methods include Bible study, book study and videos.  The Men's Study Group is open to all men. Newcomers are always welcome.
Upcoming Meeting:  Tuesday, November 21, 7:30 a.m.