St. Alban's 
Episcopal Church
(828) 324-1351
 Office Hours:   Monday through Thursday, 10 a.m. to 3 p.m.
.

QUICK GLANCE
Wednesday, February 21, 5:45 p.m. 

 

 Simple Supper & Lenten Program Please RSVP (See below for details on the Lenten Program)
Thursday, February 22, 7 a.m. 

  

Morning Prayers,  5:45 p.m.

  

Evening Prayers

Friday, February 23, 5:45 p.m.: 

 Stations of the Cross
Sunday, February 25, following 10:30 worship:  Newcomers Luncheon (See below for details)

Monday, February 26, 7 a.m.

Morning Prayers,

5:45 p.m.

Evening Prayers

Tuesday, February 27, 7 a.m.

Morning Prayers,

5:45 p.m

. Evening Prayers

Wednesday, February 28, 5:45 p.m.

Simple Supper & Lenten Program Please RSVP (see below for details on the Lenten Program)
Thursday, March 1, 7 a.m. Morning Prayers, 5:45 p.m. Evening Prayers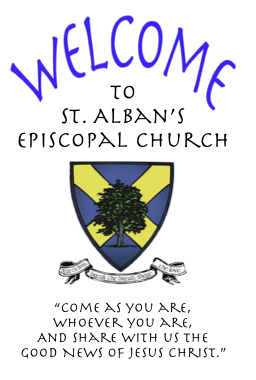 NEWCOMER'S LUNCH (EVERYONE IS WELCOME!):  On Sunday, February 25, immediately following 10:30 worship, we will be hosting a Newcomer's Luncheon.  The menu is ham, potato salad, baked beans, deviled eggs, rolls and dessert.  All church members, and of course, the newcomers are invited to attend and mingle.  There will be a sign-up on the kiosk to attend and/or volunteer to help with food. Hope everyone will attend and welcome our newcomers!
RISE AGAINST HUNGER (formerly STOP HUNGER NOW)  St. Alban's will again host Rise Against Hunger on Saturday, March 3, 2018.  There will be two shifts for this packaging event!  Our goal is 60,000 Meals!  We need to raise $18,000!  You can choose to volunteer, donate, or hopefully both!
Food & Bagging Event FACT Sheet
Saturday, March 3, St. Alban's Episcopal Church in Hickory, NC will host it's 6th Annual Rise Against Hunger Event.

All Volunteers are URGES to Register and/or Contribute monetarily through their secure website (see link below)
ST. ALBAN'S RISE AGAINST HUNGER
Since 2013, we have bagged 223,988 meals which have been sent to Haiti, Guatemala, Nicaragua, & Swaziland.

There are six meals within a bag and each meal continues to cost 30 cents a piece.

Through donations like yours, St. Alban's has raised more than $65,000 which has been used to purchase the "foodstuffs" for assembly of these meals and shipment of the meals to our neighbors in need throughout the world.

The five Rotary Clubs of Catawba County have been integral in providing both funding and people-power to these events.

There are volunteer roles for everyone to participate:  from ages 5 to 100!  Families are encouraged to participate together and this event is also a wonderful way for youth or teams to come together and spend some time helping others.

Approximately 6 people are assembled around a table and place their designated ingredient into a funnel when instructed by the "Funnel Captain".  It's always important to remember:  "RICE GOES LAST"

Bags are collected by "Runners" and carried to the weigh stations.  Once the weight is correct, the bags are sealed.  The completed bags then are moved to the Boxing Area where they are carefully assembled into shipping boxes.  Once those boxes are sealed, they are placed on pallets and ready to begin their journey to their final destination, feeding the hungry!
HUNDREDS of volunteers are needed for this labor-intensive project!  We need YOU!
.
MUSIC HAPPENINGS at St. Alban's Episcopal Church!
Wee Ringers (Grades K-6) 5-5:30 pm.
Cantor Kids (Grades K-6) 5:30-6:15 p.m.
Adult Bells 6 p.m.
Adult Choir 7 p.m.
 2018 WOMEN'S RETREAT:  LAUREL RIDGE, June 1 – 3!  "Laurel Ridge is a mountain place set apart for forming disciples of Jesus Christ who live and learn in community to serve in the world."   Contacts for the Retreat are: Mary Michele Millholen, 404-550-1011 or email, 3miamiam@gmail.com  or Claudia Moore, 828-325-0679 or email claudiamoore49@yahoo.com   Sign up at the Kiosk in the Commons Room (name & email please).  An information sheet with details will be available by Sunday, February 18
SAVE THE DATE! The St. Alban's annual yard sale will be held on April 14. It's time to start going through your closets, cabinets, drawers, basements and attics!  Donations will be accepted at the church the week before the sale. No clothing or fat TVs can be accepted. In addition to donations, we will be looking for helpers the week before the sale and the morning of the sale. All proceeds from the sale will be going to Outreach. For more information, contact Pat Rice at ricepl@charter.net or Beth Huggins at bbhugs@charter.net.
.
BREATHING UNDER WATER:  Wednesday Lenten Series and Café St. Alban's: This year our Lenten study-series will center on Fr. Richard Rohr's Breathing Under Water; spirituality and the twelve steps. Fr. Rohr suggests that we all have spiritual hunger and desire for union with God but we are, knowingly or not, becoming increasingly addicted to a consumer-centered culture where nothing is ever enough and buying into the  persuasion that we need more and more. This clamor of desires within ourselves must be silenced in order for our hearts to be open to deeper union with God. With Breathing Under Water Fr. Rohr in his own words says, "I'm trying to put together the brilliance of what we call twelve steps spirituality which I think is the standing American contribution to the history of spirituality, and to show that it really is mainline gospel. We come to God, not by doing it right but by doing it wrong. That's so clear the way Jesus is always approaching the outsider, the sinner, the one who has failed, the one who needs healing. Jesus says, I did not come for the healthy, I came for the sick." The book can be purchased on-line new or used at amazon.com; or at  Barnes&Noble barnesandnoble.com Center for Action & Contemplation: www.store.cac.org; Franciscan media: shop.franciscanmedia.org; Classes will begin February 21 and every Wednesday through March 28. Café St. Alban's begins 5:45, the class is from 6:30 – 7:30 p.m. Childcare will be provided.
GHCCM has a wide variety of services that most people aren't aware of. Sure you probably know about the Medical Clinic and the Food Pantry, but did you know that we have a shower ministry? We have showers available to those who are homeless or may not have hot water! We are running short on some supplies and could really use YOUR help! We are in desperate need of towels (used towels are OK) and disposable razors. If you are willing to help, supplies can be dropped off in our lobby. Thank you!
St. Alban's also has provided a drop off point in the laundry basket in the commons room!

ST. ALBAN'S MEN'S STUDY GROUP meets at 7:30 a.m. the first and third Tuesday each month. The group's purpose is to expand our ability to serve the people we meet in our daily lives through study and prayer.  These methods include Bible study, book study and videos.  The Men's Study Group is open to all men. Newcomers are always welcome.
Upcoming Meeting:  Tuesday, March 6, 7:30 a.m.