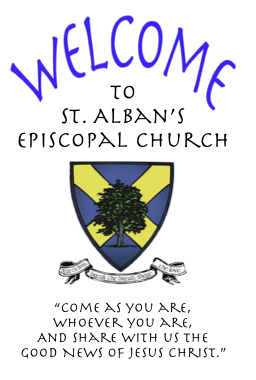 (828) 324-1351
 Office Hours:   Monday through Thursday, 10 a.m. to 3 p.m.
.

QUICK GLANCE
Wednesday, January 15, 6 p.m. Cafe St. Alban & Episcopal 101
Sunday, January 19th (2 Epiphany) Bishop José in Attendance

7:30 a.m. Morning Prayers

8:30 a.m. Early Service

9:40-10:10 a.m. Forum with the Bishop

10:30 a.m. Late Service

Tuesday, January 21st, 

7:30 a.m. Men's Study Group
5:45 p.m. Healing Service & Holy Eucharist

Wednesday, January 22, 6 p.m. Cafe St. Alban & Episcopal 101
COMMUNITY YOGA – Balance Your Life
Instructor: Cynthia Haas  
cynthia@balanceyourlifeyoga.com  
www.balanceyourlifeyoga.com
If you have practiced yoga in Hickory in recent years, you will probably know Cynthia Haas who has lead yoga classes at the "Y" for over 10 years. Cynthia now offers yoga classes that are open to the Hickory / Catawba community at St. Alban's three times a week. Mondays at 10:00AM, and Thursdays at 10:00AM and 6:30PM. The classes meet in the Commons Room of the church. Suggested donation is $ 5.00 per class. Mats are made available. 
CAFÉ St. Alban and EPIPHANY series – EPISCOPAL 101 – Enquirers class: Starting January 15, this class will be helpful for newcomers, those considering to join the Episcopal Church, as well as members who wish to brush-up on our Anglican / Episcopal identity. From January 15, the classes will be on Wednesday evenings throughout the Season of Epiphany to February 19. Café St. Alban's meals start at 6:00PM, followed by the class sessions from 6:45 – 7:45. Childcare will be provided. Sign up at the Kiosk in the Commons Room or call the church office, 828-324-1351. 
On the Menu for January 15th:  Taco Bar, made possible by the St. Alban's Men's Group!
.
BISHOP VISIT:  Our Bishop's bi-annual visit is January 19. Bishop José will celebrate and preach at both services, (8:30 & 10:30), and lead a parish forum 9:40 – 10:10.
.
Mark your Calendars!  The St. Alban's Committee O' Fun is busy working on our 11th Annual Oyster Roast & Chili Fest!!  Tickets for the Saturday, January 25th Event go on sale SOON!!!  Also, we are looking for volunteers to help!  If you are interested, contact Jane Duralia, our committee coordinator (a.k.a. boss), at janenrege@gmail.com , or Maria Headrick, our volunteer organizer, at mariaheadrick@gmail.com .  
Morning & Evening Prayers

Morning Prayers are offered:
Tuesday & Thursday mornings, 7 a.m. and

Sunday Mornings at 7:30 a.m.
Evening Prayers are offered Tuesday & Thursday evenings at 5 p.m.

Start your New Years Resolution early and Join the Prayer Shawl Ministry!
Next Meeting TBD
Time:  10 a.m.
Place:  Commons Room
Don't know how to knit?  No worries!  We will help you and soon you will be making these treasured gifts.  Come check it out!

ST. ALBAN'S MEN'S STUDY GROUP meets at 7:30 a.m. the first and third Tuesday each month. The group's purpose is to expand our ability to serve the people we meet in our daily lives through study and prayer.  These methods include Bible study, book study and videos.  The Men's Study Group is open to all men. Newcomers are always welcome.
Upcoming Meeting: Tuesday, January 21, 7:30 a.m.